11 November 2004
NEW BOOK ON HUMAN RIGHTS IMPLEMENTATION IN RUSSIA: Anton Burkov, a lawyer with NGO Sutyajnik, has contributed his research on "Detention of Mentally Ill Persons in the Russian Federation under Article 5 of the ECHR" to the book "The Implementation of the European Convention on Human Rights in Russia: Philosophical, Legal, and Empirical Studies" (= Soviet and Post-Soviet Politics & Society, Vol. 1).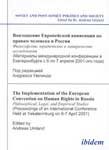 Edited by Andreas Umland
Published by Ibidem Publishers Stuttgart,
http://www.ibidem-verlag.de/r1l.html
ISBN 3-89821-387-0, Paperback, 228 pp., 24.90 Euro.
In 1996, the Russian Federation became a member of the Council of Europe. Two years later, the Russian parliament ratified the Council's major document, the European Convention on Human Rights (ECHR). These Russian- and English-language papers were presented at a conference at Yekaterinburg in spring 2001. The collection constitutes a snapshot of Russian and Western approaches to human rights protection at a moment when Russia was going through a first phase of adaptation of the political system created by Boris Yeltsin to the new modes of state-society relations introduced by Vladimir Putin.
Contents:
Sergey Alexeyev on human rights and Modernity (in Russian); Rainer Arnold on the EU Charter of Fundamental Rights (in English); Valery Mikhailenko on ethnic separatism (in Russian); Julia Kharlamova on the impossibility of an ECHR-implementation in Russia (in Russian); Yekaterina Khodzhayeva on human rights discourses in Tatarstans mass media (in Russian); Anatoly Azarov on the Russians' lack of knowledge about the ECHR (in Russian); Manja Hussner on the incorporation of international treaties into Russian law (in English); Marat Salikov on the Constitutional Court (in Russian); Anton Burkov on the detention of mentally ill persons (in English); Igor Shirmanov on ambiguities in Russian legal norms (in Russian); Olga Selikhova on human rights issues in the regions (in Russian); Olga Aleksenko on the Human Rights Commission of Rostov-on-the-Don (in Russian); Yelena Goncharova on the right to a fair trial (in Russian); Tatyana Gladkova on the Sverdlovsk Oblast Ombudsman (in Russian); Andrey Lyamzin on Yekaterinbur's detention system (in Russian); Andreas Umland with Oxana Stouppo on Western policies towards Russia (in Russian); Andreas Umland on prospects of ECHR-implementation under Putin (in English).
The collection's full list of contents may be found at: >>>
The book can be bought via the WWW at: http://www.buchhandel.de/index.html?http://www.buchhandel.de/vlb/vlb.cgi?T=1065033728&ID=0218x5033711x31069x-213&fullsearch=isbn=3932602005&qstring=T1=(is=3932602005*)&subcount=0&subsource=suche&type=voll&artnr=3-89821-387-0
=====
Temporary mailing address until 10th December 2004:
St. Antony's College, GB-Oxford OX2 6JF, United Kingdom;
tel.: +44-(0)1865-727670; fax: +44-(0)1865-554465 (for Umland).
Permanent home address:
Am Rosenweg 1, D-07751 Jena-Isserstedt, Germany;
tel.+49-(0)36425-50530; fax +1-661-4573014.