Down Broadway towards… or The Tragic Events through the Eyes of a Russian Volunteer
09.09.2009
Where do people go when they visit New York? – To watch the city from the top of the 110-storey twin towers of the World Trade Center (WTC). So, on August 25 I too went and took pictures of New York, as well as some gorgeous pictures of the "twins," from the incredible height. I finished the same film on September 11, with photographs of the terrifying ruins.
I did not see this "movie"…
September 11th.  Morning.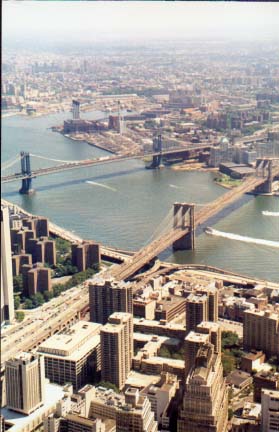 My "temporary home" is located in Manhattan close to the Columbia University Morningside campus – a two-hour walk away from the WTC, as I was to learn.
As usual, at 9:30 my class started at the university. After the lecture my German classmate Andrea came over and in an emotional tone described a scenario in which planes attacked the WTC. I answered, apologizing that I had not been watching TV the previous evening, and therefore could not share my impressions of the film.
Ten minutes later I understood that she was not speaking about a film, but about the actual events taking place in New York this morning. I began receiving emails from Russia that the WTC had collapsed.
What's happening?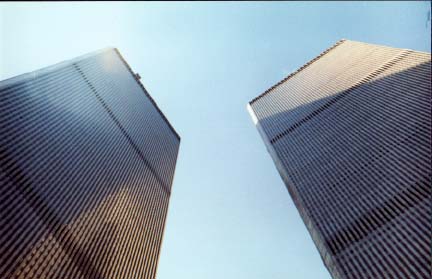 Noon. Classes at Columbia University are cancelled. All students are asked to call home and say that they are okay.
1:00 p.m. I could not just sit around watching the news. And it was hard to get any information from the web: the web servers were constantly overloaded and kept giving me the message "web page unavailable". I put on my shorts and sandals, grabbed my backpack, my camera, and my tape recorder - which I usually use to make sense of my lectures – and went down Broadway toward the WTC. The The only thing that reveals that something unusual has happened are the faces of confused New Yorkers and the traffic jam on Broadway in the uptown direction. The lane in the opposite direction is absolutely empty. I could take the subway or the bus downtown, but I chose to walk in order to be able to see what is going on.
Occasionally I see a line in front of a pay phone.
On the way I am listening to my pocket radio. One unusual expression keeps confusing me: "… where the World Trade Center was… was… was…." What does that mean – "was"?
88th Street: all is peaceful. Only a single fire engine makes a turn in the downtown direction.
A military plane flies above with a roar. The expression of fear on the face of a woman near me tells that she thinks there will be another attack. A terrifying thought.
73rd Street. The same silence as before.
Later on: two more military planes.
61st Street. I am approaching the first skyscrapers. Silence.
I'm listening to my pocket radio again – they are asking doctors and nurses to come to the ground zero. Another military plane flies by above the top of the skyscraper. The loud sound echoing from one building to the other evokes the feeling of the possibility of a new attack. This explains the attentive glances of people walking by. But I think nobody really believes yet what has happened. No, this is not real; it is just the nation-wide advertisement of the latest "Independence Day" thriller!? It is impossible to perceive the events as reality, because as far as 70 blocks from the site life still remains the same.
50th Street. In the distance, between the tops of the skyscrapers, only a small cloud, looking like a rain cloud, disturbs the image of an otherwise clear blue sky. But everyone understands that this is not just another rain cloud.
Military planes fly overhead.
44th Street. There are traffic jams in all directions.
43rd Street. The first police unit. People ask questions. A policeman is directing the traffic – the traffic lights cannot handle such large number of cars.
42nd Street. I am injured! I bumped into a woman, while watching the skyscrapers. Nothing happened to the woman.
2:55 p.m. The streets are not closed off, but nobody is going in the direction of downtown. Again, all is quiet.
28th Street. Nothing, except the "cloud," reminds me of the ongoing events.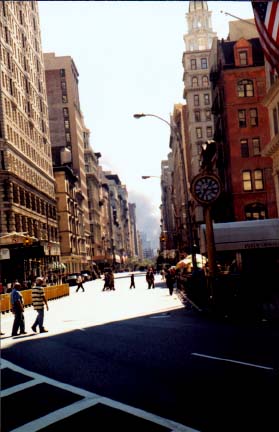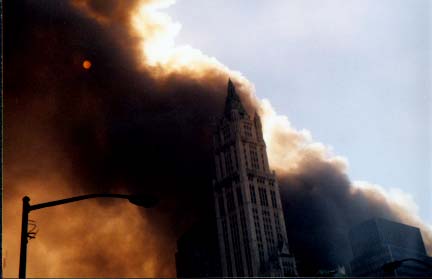 27th Street. All the shops are closed, with their blinds drawn.

20th Street. The "cloud" has turned into a dark blue mass of smoke. And so weird: something is glittering all over it, like camera flashes. What is it?

13th Street – The first doctor arrives.

8th Street. I am at the park. Again all is peaceful. But the calm puzzles me. People are just sitting around, talking, drinking soda in the sun, watching the fountain, and occasionally turning their heads… toward the mass of smoke – as if watching a new thriller being advertised nation-wide at this moment. How diverse this city is! Or maybe they actually do not realize what is happening and think they are watching a drive-in movie. Less than a mile away thousands of people have died, but here everything and everyone is are unaffected. It seems as if this happened not in Manhattan, but somewhere else, in another country, far away.

I keep walking. I'm facing a police car that has just come from "ground zero." It is covered by inches of dust and concrete debris. No, it is not a movie. It is reality. But what is happening there?

In front of the International Trade Court building, people are making stretchers. People are crowding the plaza – they are looking for volunteer work. All the policemen are wearing masks. And after 5 minutes I understood why. I'm looking down at the ground. It is covered by dust and concrete debris. It is impossible to breathe without a special mask. I'm feeling the taste of concrete. It is crunching in my teeth. I take off my shirt to use it as a makeshift mask. I can breathe now. In the dust and concrete debris there are a lot of papers, documents and pictures. Is it the last day of Pompeii? What is going on here? Is it nuclear winter?!

"Winter" in Downtown

Gray dust and concrete debris are everywhere. Roads, cars, everything is covered by heavy gray August "snow".

At the Brooklyn Bridge there is a police barricade.

"Snow" is everywhere: in my hair, eyes, nose, and ears. Now I understand what was flashing in the dark blue mass of smoke – it was   "concrete snow". Everything is gray. The air is heavy with debris, which is dangerous for the lungs. It does not settle because of the strong wind.

Close to Brooklyn Bridge there are a lot of policemen and fire brigade. I'm going with a volunteer group.  Signs requesting blood donations are everywhere.

Everyone was given a special mask. On one street the concrete debris is mixed with water. It is becoming difficult to breathe even through the mask.

This is winter, 100 degrees Fahrenheit, with "concrete snow". And smoke. "Snow" scrapes my camera's lens.

On the famous Wall Street there is no movement. I'm in sandals and shorts. I'm gray-haired because of the ash and dust.

There are 15 of us. So weird! In the shop's doors there is a homeless man sleeping peacefully as usual. We are asking him "Are you alright?" Yes, he is fine.

There are 2 blocks until "ground zero." We can see only a wall of dust and ash. What is there behind the "wall"? We are entering the darkness. Winter and darkness. Suddenly an abandoned coca-cola truck appeared. We are at the epicenter – mountains of debris, glass fragments and crushed cars.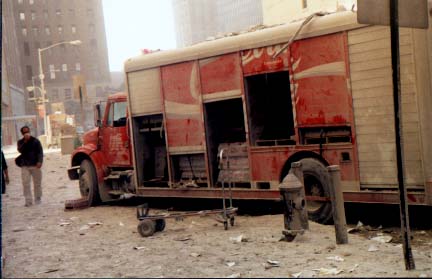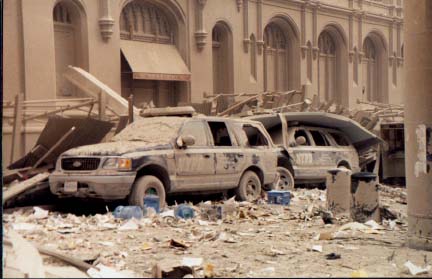 "One Liberty Plaza"
The time is 4 p.m. Our volunteer team is on the ground floor of the "One Liberty Plaza" building where the emergency hospital is located. I remember that two weeks ago very close to "One Liberty Plaza" I was trying to photograph the "twins". It was incredibly difficult because of the unbelievable height. Two weeks back I did it.
There are so many rescue workers harmed because of dust and exhaustion. Dust blinds them – there are not enough protective glasses. We are put to work making eyewash. The rescue workers are coming by themselves; others are helping some of them. They are placed in the office chairs. We use droppers with water. Water, napkin and medicine drops – it takes only one minute. Then they go back to fight. Doctors are taking the pulse of those who have badly suffered from smoke and giving them oxygen. During these medical procedures cell phones are ringing - relatives are worrying. They hear only very short answers – "I'm okay, don't worry, I got to go."
Suddenly we hear a scream, "Leave the building" – a fire alarm has rung. Evacuation begins. Five minutes later we got the command "Stop evacuation" – the fire was stopped.
It is getting absolutely dark. Emergency lights work from gas generators. Powered floodlight projectors light the site. The rescue work doesn't stop even for a minute.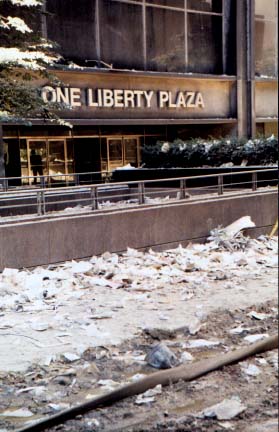 Against whom was This Crime Committed?
I have become acquainted with our volunteer team. They are the guests of the city. We have called our team an "International Team". I have remembered only some of the names and eyes, which were lit with willingness to help – the faces were covered by masks: Nelly and Din from England, Kelly from Scotland, Boris from Germany… Someone came to New York for a vacation, someone to study.  Here is the question then: Against which country and its citizens was this crime committed? New York is a multinational city where people from all over the world live. The WTC is an "Open for public" building. This is a crime committed not only against American citizens but also against the people of the world. This is a crime against all of us. This is a crime against Nelly and Din from England, Kelly from Scotland, Boris from Germany… which could have been "here" at the time of the attack (as the city's guest) but came "here" 7 hours after the WTC collapse (as volunteers).
No water. On the way to get water we saw rats leaving "One Liberty Plaza". There are tons of them. Thoughts – "A sinking ship? Will one more building collapse?"
The concrete debris mixed with the water from fire hoses becomes a heavy mass. I realized even before that that I had made a mistake by wearing sandals.
5:00 in the morning – I'm dead tired. Legs are hurting. Newcomers are replacing us – we call them "fresh". The ground floor is crowded with firefighters. We are trying to find a place to sleep on the higher floors. On the next floor there is an expensive clothing boutique. But it doesn't matter now. We just want to sleep. Everything in the shop is dusty because all the windows are broken. Without caring about the prices of the items, which are $ 400 each, I take three topcoats and drop them into the dust. It will be my bed for tonight. Falling asleep in a moment. I've never slept on such an expensive bed before. I have just had an opportunity to remove my mask.
September 12th, 8:00 in the morning. Dawn. The fire at "ground zero" is still raging. I'm watching the site through the broken window and… Where are the awe-inspiring "twins"? Nothing is there…only debris, broken columns, and the armature, which used to serve as a decoration for the building. The first "twin" is ruined completely.  Some burned levels are all that remain of the second "twin."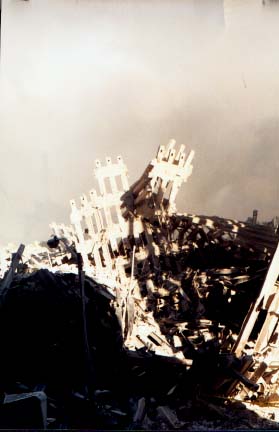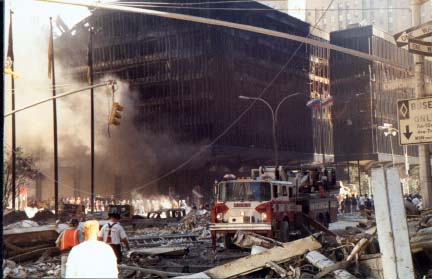 Anton Burkov
Visiting Scholar of Columbia University School of Law
(Citizen of Russia, Yekaterinburg)
Manhattan, New York, USA
Written on September 12th, 2001 9:15 p.m. (Eastern time US & Canada)
For more photographs please refer to Exhibition of photographs which was organized by Anton Burkov and the US Consulate General in Yekaterinburg on 11 September 2002
Read this story in Russian
---
---
Поделиться в социальных сетях:

Diaspora*
Комментарии:
Добавить комментарий: